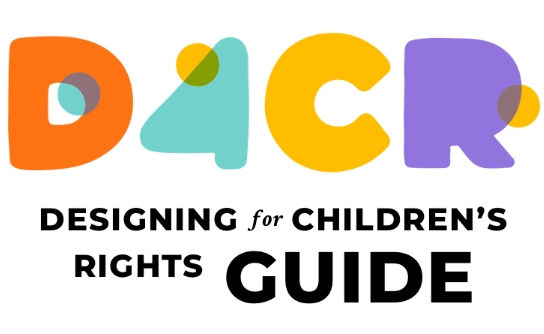 Description of resource:
The D4CR design guide is based on the UN Convention of the Rights of the Child and U.N. General Comments. It's a valuable resource for anyone creating products or services for children or used by them. The guide was developed in collaboration with 70+ experts from industry, academia, and child rights, and with UNICEF as our primary partner:
The D4CR design guide consists of 10 design principles that address three crucial aspects of ethical design for children: Inclusion, Play & Learning, and Safety & Sustainability. These principles offer valuable perspectives to consider, and resources to help you put them into action. Rather than just pointing out problems, the guide shows you how to do things correctly and responsibly.
How is your resource seeking to build digital environments that foster children's well-being?
The D4CR design guide aims to support the creation of digital environments that enhance children's well-being. Often, children use products and services that don't consider their needs or rights, leaving them directly or indirectly affected. To ensure children's well-being, we must prioritize their interests in design and business decisions. But where can designers and decision-makers find the guidance they need for this challenge? This is the question that led to the creation of the D4CR design guide.
In the guide, we emphasize the importance of respecting children's needs and perspectives. We recognize that designing for children is a complex endeavor, and our design principles are here to provide valuable guidance for designers at all levels of experience. Our principles aim to empower designers by helping them navigate the intricacies of child-centered design:
The first principle for example, highlights involving children in your work, gathering and respecting their views ethically. We also offer resources to help with this. Involving children in the design process is a crucial first step toward creating (digital) environments that truly cater to their needs and enhance their well-being. We hope the guide can assist both aspiring and seasoned professionals in making ethical choices within their teams, projects, and organizations.
How can people get involved or contribute?
We invite you to explore all the principles in the D4CR design guide and adapt them to your project or organization. You can access the guide digitally, print it, or use it as a slide deck from our website https://childrensdesignguide.org
As the world continues to evolve, so does our D4CR design guide. We value your feedback and experiences with the guide – please share them with us.
Or join our D4CR Slack channel, and consider joining or even initiating a local chapter in your area. For more information, visit our website at www.d4cr.org.
Join us in creating a better (digital) world for children!
Organization involved
Designing for Children's Rights