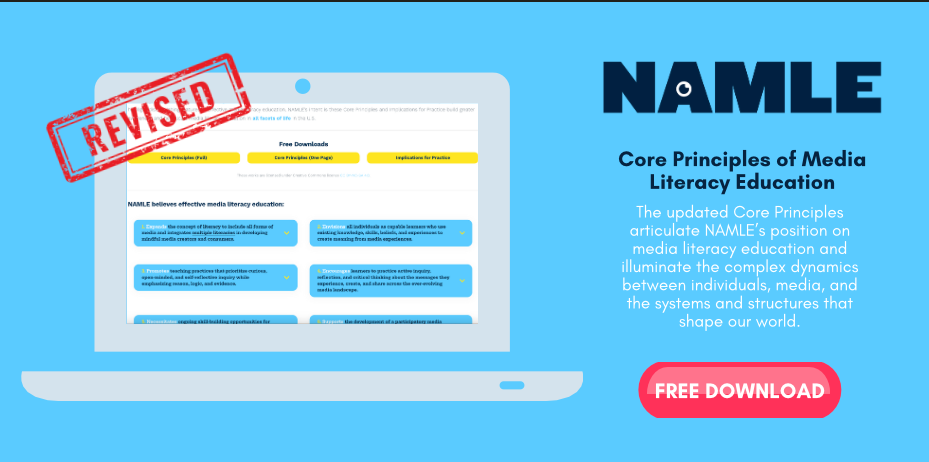 Description of Resource:
The Core Principles articulate the National Association for Media Literacy Education's (NAMLE) position on media literacy education and illuminate the complex dynamics between individuals, media, and the systems and structures that shape our world. The additional Implications for Practice highlight distinguishing features of effective media literacy education. NAMLE's intent is these Core Principles and Implications for Practice build greater awareness and help scale media literacy education in all facets of life in the U.S.
How is your resource seeking to build digital environments that foster children's well-being?
NAMLE views media literacy—the ability to access, analyze, evaluate, create, and act using all forms of communication—as an essential 21st-century literacy. Media literacy education is the ongoing development of habits of inquiry and skills of expression necessary for people to be critical thinkers, thoughtful and effective communicators, and informed and responsible members of society. Developing these habits and skills is vital to civic life and to well-being of all individuals.
How can people get involved or contribute?
NAMLE is a free membership organization for those interested in media literacy education efforts around the globe. Join us at www.namle.net and get access to resources, our national conference, U.S. Media Literacy Week and stay in the loop of all that is happening in the media literacy Community.
Organization involved
National Association for Media Literacy Education (NAMLE)